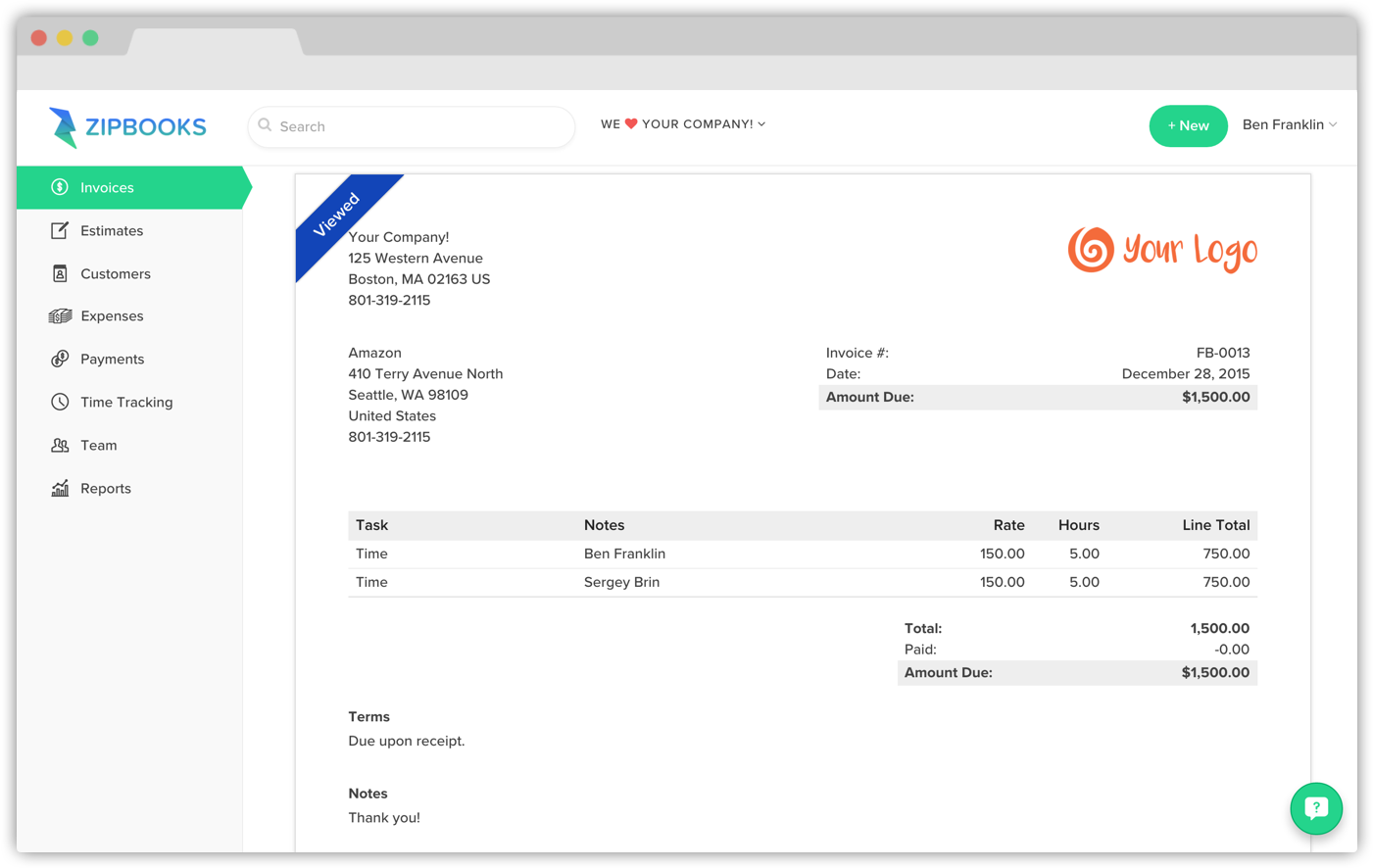 Features
Unlimited invoices Never worry about invoice limits again. Send out unlimited online invoices to your customers no matter the size of your business. Pick and choose With ZipBooks, you're in control. Customize how you want your invoice to be viewed and select which layout you want. Choose the projects, date range, and team members you will include in your invoice. Send the perfect email ZipBooks lets you send your invoices out with a note that reflects perfectly who you are as a company. Create a single email template to send with every invoice, or write a separate email every time.
One-click invoicing Save time when invoicing with ZipBooks. Pull all your projects and billable expenses that are associated with your client automatically. Invoice by project Customize your invoice according to your project needs. Feel free to add extra details to your invoice–such as team members, tasks, and/or projects–or simply add a task or an item. Late payment reminders Let your client know about an unpaid invoice without a hassle. When you set up a late payment reminder, ZipBooks will automatically send a payment reminder to any client whose invoice is past due according to the due date you set on the invoice.
@ZipBooks I'm loving your software! I feel so much more organized now!!
It's just what I needed to organize and automate my business so it could grow.
Using @ZipBooks 4 my 2016 accounting software! Super easy set-up, user friendly, & excellent customer service.
Finding ZipBooks felt like a breath of fresh air. All around, it's been such a great experience for me. I couldn't recommend Zipbooks more.
Agreed! Awesome customer service too @ZipBooks
So easy to use, great straight-forward features. User interface is clean and friendly.