Written by
Brad Hanks
•
Posted 2 months ago
•
Small business tips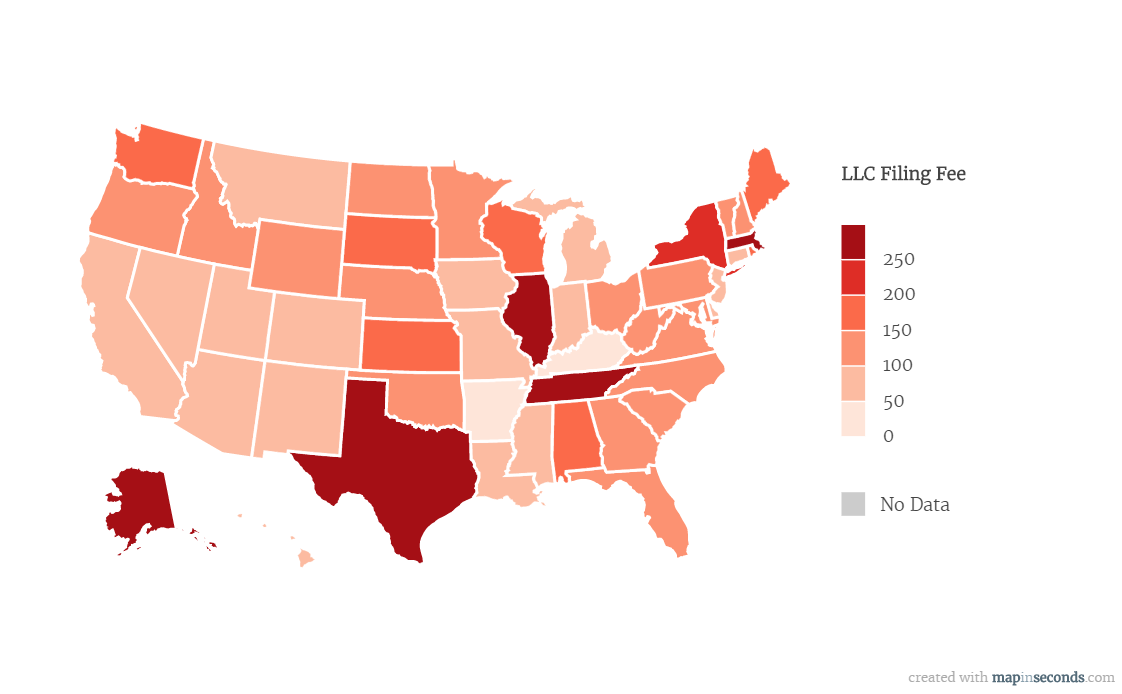 An important factor that goes into the creation of an LLC is knowing just how much it will cost to get started. You may be asking yourself, "Is the cost and work of creating an LLC going to be worth it for my company?" LLC creation costs vary from state to state, so we've provided a chart so you can figure out roughly how expensive it will be for you to create an LLC in your state in comparison to other states.
How we measured LLC filing cost
There are a lot of ways to measure the cost of creating an LLC. In order to be able to create an accurate visualization, we limited our scope to the cost of the initial filing to create an LLC. Some states cost above $250 just to file for an LLC and some cost hardly anything at all. Check out where your state falls.
Our results
Over $250
Alaska
Illinois
Massachusetts
Tennessee
Texas
Between $200 and $250
Between $150 and $200
Alabama
Kansas
Maine
South Dakota
Washington
Wisconsin
Between $100 and $150
Florida
Georgia
Idaho
Maryland
Minnesota
Nebraska
New Hampshire
North Carolina
North Dakota
Oklahoma
Ohio
Oregon
Pennsylvania
Rhode Island
South Carolina
Vermont
Virginia
West Virginia
Wyoming
Between $50 and $100
Arizona
California
Colorado
Delaware
Hawaii
Indiana
Iowa
Louisiana
Michigan
Mississippi
Missouri
Montana
Nevada
New Jersey
New Mexico
Utah
Between $0 and $50
Special thanks to Reddit's gravityTester for providing a great tool for quick visualizations.