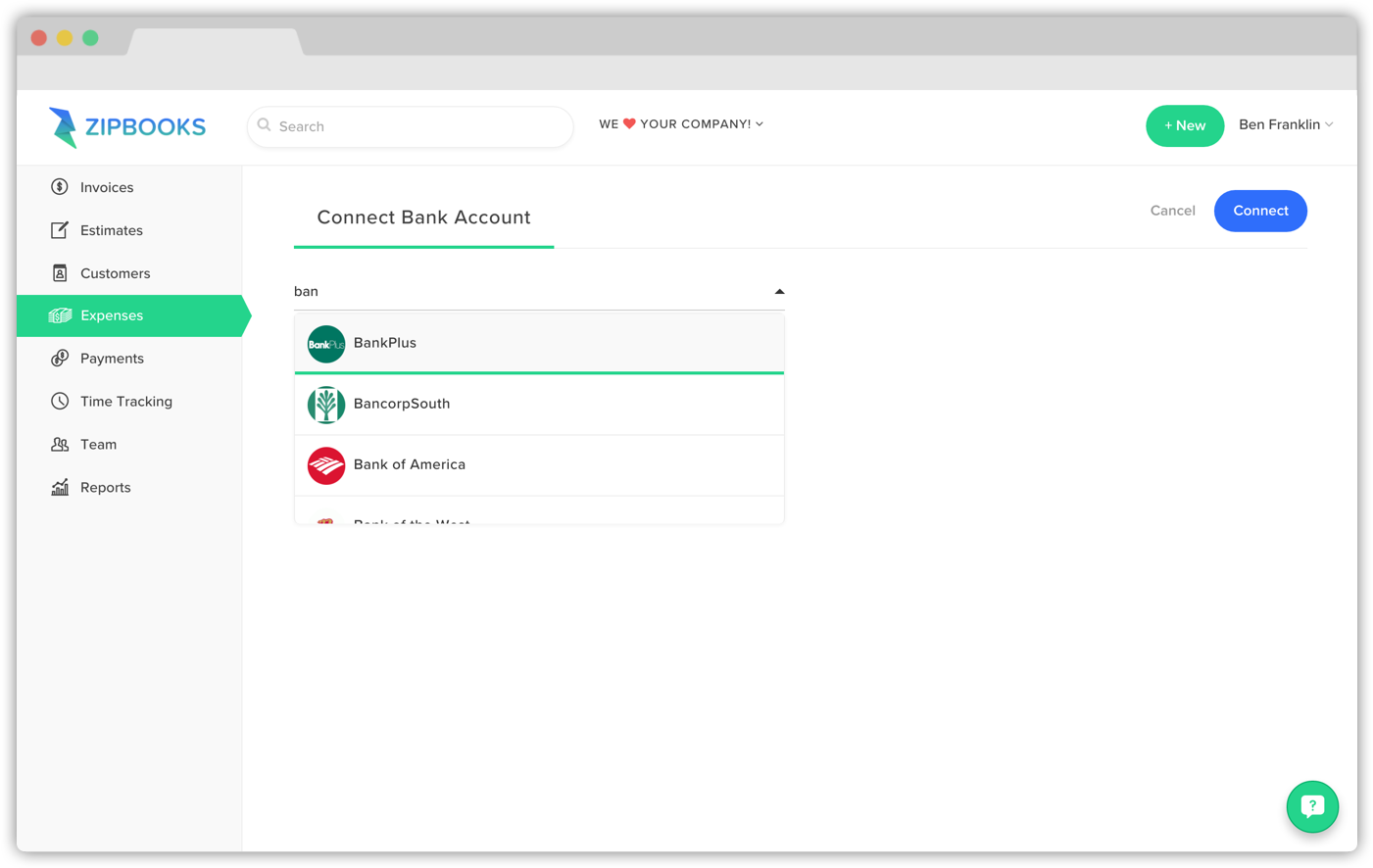 Online accounting software that's intuitive
See where your money is going
With ZipBooks' online accounting software, you can create accounting reports that keep you on top of your finances. Our bank reconciliation lets you categorize your expenses and quickly view them on one account.
Multiple account support
Enjoy being organized by pulling all your data across different bank accounts into one spot. Sync your ZipBooks account to almost every financial institution out there that connects to the web.
Connect your bank account
ZipBooks allows you to sync with your bank account(s) to keep you up-to-date with all your financial data. By linking your bank account with ZipBooks, you can view all your expenses directly from your ZipBooks account.
Dashboard overview
View your total accounts receivable, paid invoices, average invoice age, and time tracked by team members in one view. Access the dashboard overview the moment you sign into ZipBooks.
Accounts receivable? We got you covered.
Get paid sooner with online invoicing

The sooner your client has your invoice the sooner you'll get paid. Quickly create, send and track the status of professional invoices using ZipBooks.

Create an invoice in seconds from anywhere
Download as a PDF or send directly to clients via email
Accept card payments on your invoices
Estimates for quotes and bidding projects

Win more business with ZIpBooks easy and professional estimates. Sending an estimate has never been easier or more intuitive. Once your potential customer gets the estimate they have the option of clicking the approval budget to automatically generate a new project assigned to the customer with an approved budget.

The ability to create a project from an estimate means that you can start tracking billable information faster than ever with our built-in time tracker.

Create an estimate in seconds from anywhere
Print it or send directly to clients via email
Optional approval workflow process
View estimates by customer
Add expenses from your bank and add custom categories

Ever seen a free online accounting software program that let's you import expenses right from your bank account? There is a first time for everything. We automatically pull in all your expenses from your bank and you can keep the category we assign, or create a new custom category.

Auto-import from your business checking account
Create and reuse custom categories
Option to bill customer for expense on next invoice
Credit card information coming soon!
Reporting information coming soon!