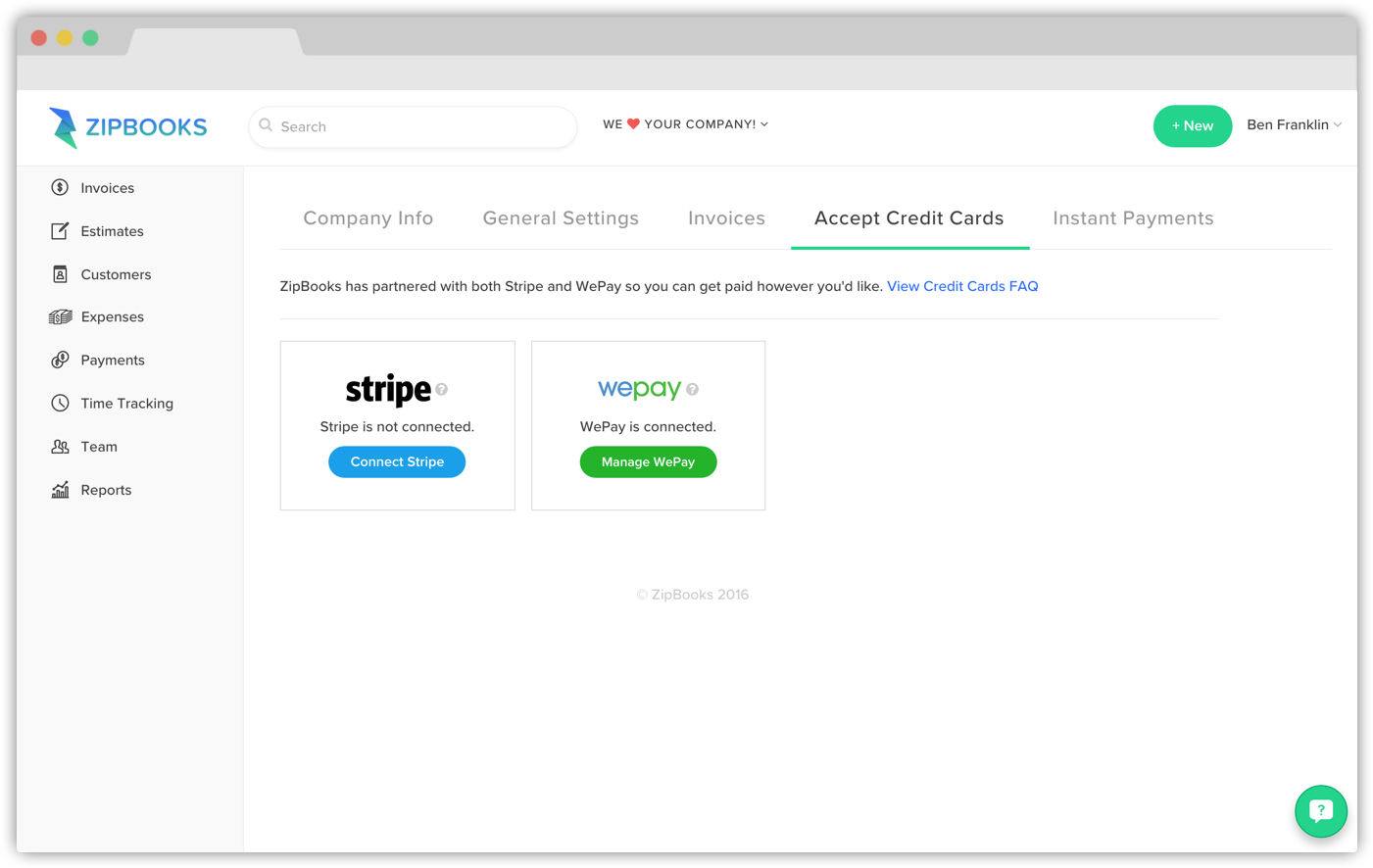 Features
ZipBooks integrates w/ WePay & Stripe

Are you charging for your work? You should make sure your invoices are as easy to pay as possible. ZipBooks features full integrations with WePay and Stripe to solve your billing problems.
Connecting WePay or Stripe to ZipBooks requires just a single click. Once you're connected, you can get paid however you'd like, no matter who your customers are.
Low costs on WePay and Stripe

We've chosen to integrate ZipBooks with Stripe and WePay for their reliability and low costs (2.9% + 30¢). These fees are dramatically lower than what you'll pay with most credit companies.
Saving money on credit card fees is just one more reason to choose ZipBooks to manage your books, invoicing, and billing. It's a great solution for a wide variety of accounting needs.
Add a payment form to your invoice
Credit card processing in ZipBooks means you can add a billing option directly to the invoices you send your customers. This payment form is easy to navigate and takes only seconds for your customers to fill out.
The biggest benefit of providing your customers such a fast and convenient way to pay you? It means they are much less likely to delay payment—or forget to pay!
International support
We have added international support to our credit card processing software, which means you can send and receive bills from several different countries. Access bill pay from the US, UK, Australia and Canada.
We'll continue to support more and more countries through WePay and Stripe as time goes on. We're committed to making sure ZipBooks is always an option.
@ZipBooks I'm loving your software! I feel so much more organized now!!
It's just what I needed to organize and automate my business so it could grow.
Using @ZipBooks 4 my 2016 accounting software! Super easy set-up, user friendly, & excellent customer service.
Finding ZipBooks felt like a breath of fresh air. All around, it's been such a great experience for me. I couldn't recommend Zipbooks more.
Agreed! Awesome customer service too @ZipBooks
So easy to use, great straight-forward features. User interface is clean and friendly.