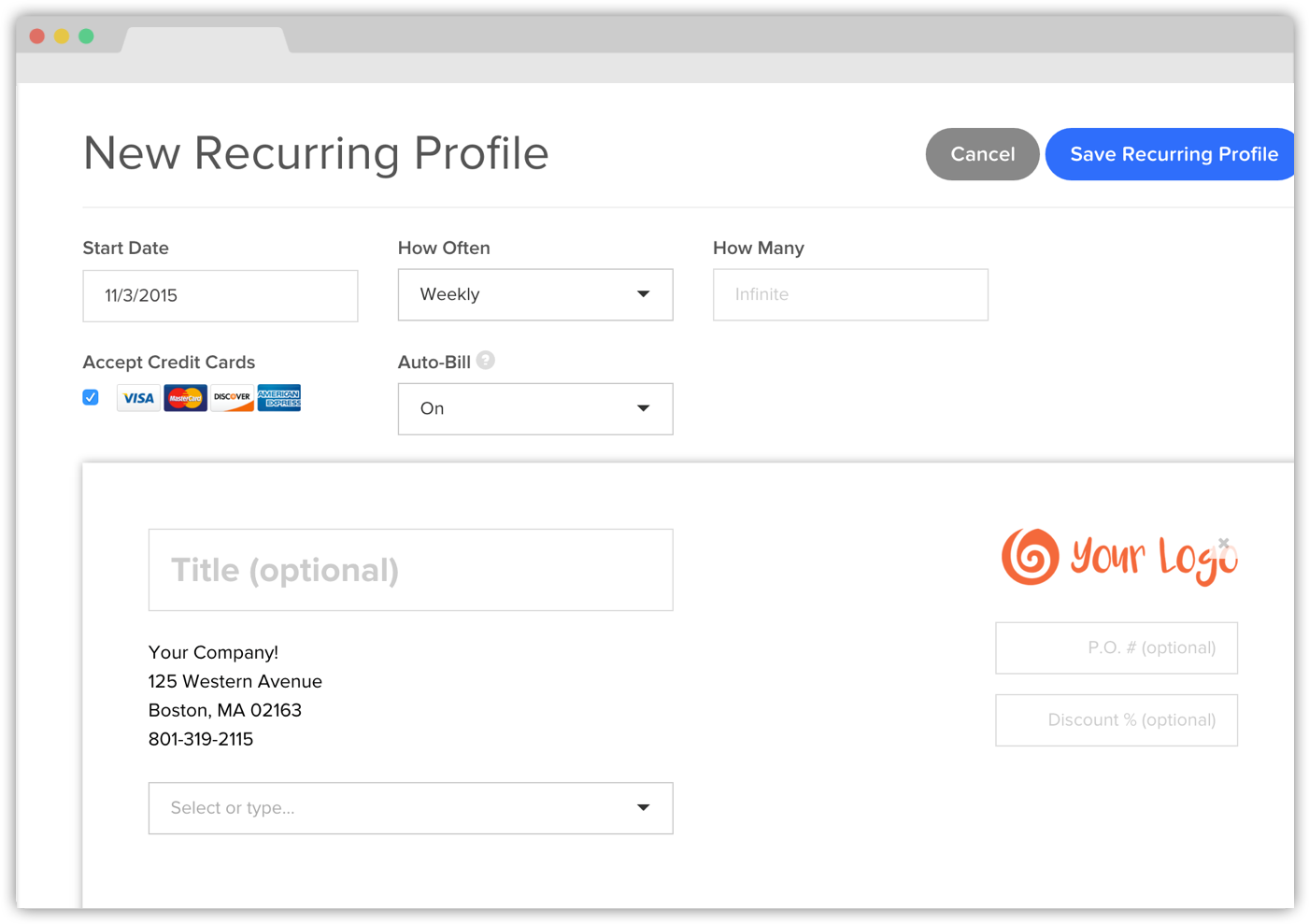 Features
Free software for recurring billing Looking for a recurring billing solution? Look no further. ZipBooks lets you set up recurring bills with ease. Make invoices for specific customers, projects, and time periods. Then easily transform those invoices to bills with just a click. When you sign up for ZipBooks, you'll gain access to free software for bookkeeping, invoicing, billing, and much more. Set up payment frequency and quantity Options like payment frequency and quantity are easy to customize within our sleek, user-friendly interface. Navigating your options, and changing them, takes only seconds. Doing accounting for your own business can seem baffling, but ZipBooks makes it simple with a rich set of features and a plethora of customizable payment choices.
Convenient auto-billing options Auto-billing lets customers pay you for your work automatically. We'll make it absolutely clear to your customers that they are signing on for auto-billing before they fill out their information. We'll also make sure they know the amount and billing frequency. There's no limit on the customers you can add or the amount of bills you can send. It's all free and it's all in one central location. Custom start dates With custom start dates, you can make sure your bill goes out to the right person at the right time. Choose a date to get started and set up the recurring billing option. With recurring billing, you'll never have to worry about forgetting to send out a bill again. And your customers will have the advantage of working with someone who's consistent and reliable in their billing methods.
@ZipBooks I'm loving your software! I feel so much more organized now!!
It's just what I needed to organize and automate my business so it could grow.
Using @ZipBooks 4 my 2016 accounting software! Super easy set-up, user friendly, & excellent customer service.
Finding ZipBooks felt like a breath of fresh air. All around, it's been such a great experience for me. I couldn't recommend Zipbooks more.
Agreed! Awesome customer service too @ZipBooks
So easy to use, great straight-forward features. User interface is clean and friendly.